On the Twelfth Day of Christmas.....Festive Stocking Holders
DECEMBER 24, 2016 IN PDF PATTERN, TUTORIAL


One of my favorite Christmas traditions is handmade gifts. For me, making something for a friend, sister or child, is what makes the holidays so special.

These mini stockings are sure to be a hit at your table. Their small size make them perfect to hold a treat, a gift card, or flatware. Additionally they can double as Christmas ornaments next year!

MATERIALS






White felt

Scrap felt in a variety of fun colors

Handsewing needle

White thread

Metallic Embroidery Floss in White Gold

A free Mini Christmas Stocking Template, printed and cut out

SIZE

3 x 5 3/4



MAKE THE STOCKING

CUT

Using the Mini Stocking Template, cut 2 foot pieces, one cuff piece, one loop, and 18 felt circles.

EMBELLISH

Following the pictures as a guide, stitch two circles at a time to the stocking cuff using a straight stitch and some metallic thread. For added interest, I offset the direction that I stitched the felt circles to the cuff.





MAKE THE STOCKING

Fold the embellished stocking cuff inward with Right Sides Facing Together. Stitch the short side using a 1/4" seam allowance.





Place the stocking front and back on top of each other. Pin together along the outside edges (leave the top of the stocking open). Stitch around the foot of the stocking using a 1/4" seam allowance. Be sure to backstich at the beginning and end of each seam.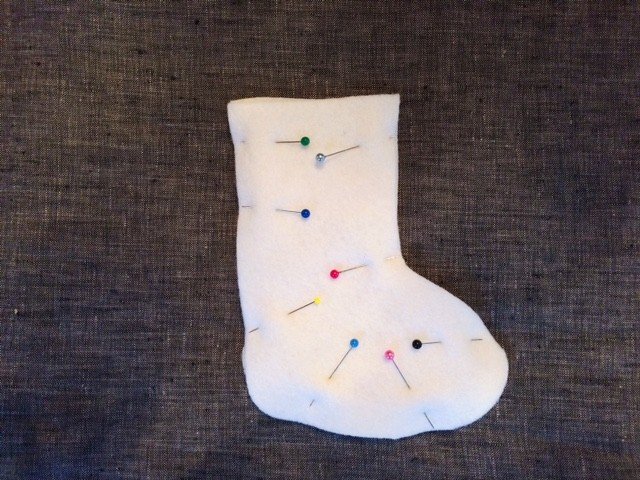 ASSEMBLE

With both the stocking and the cuff turned Right Side Out, slide the cuff over the stocking. Push it all the way onto the stocking body so that it fits snuggly.



Pin the top pieces together around the inside of the opening, making sure that the side seams meet. Tuck the raw ends of the loop into the back right side of the cuff. Pin.

HEMMING THE TOP

Using the white thread, stitch the top together using a straight stitch or a blanket stitch. Make sure to reinforce the loop by sewing over it twice.





You are all done and ready for treats!