Skip Navigation
Website Accessibility
FEBRUARY 26, 2020 IN TUTORIAL, FABRICS AND TEXTILES, SEWING AND CONSTRUCTION, SUSTAINABILITY
Recently I have been seeing a host of embellishments of all manner in fashion magazines and on the runways. Perhaps since clothing shapes and silhouettes are holding steady, embellishment is a way to make clothing new and enticing. Whether it's just a sprinkling here and there or an all-over design, embellishment is a fun way to both personalize and dress up your wardrobe.

This winter I discovered that one of my favorite sweaters had been enjoyed by some moths. Uggh! However, instead of being upset, I decided that this presented the perfect opportunity to create a design that I had been playing around with in my mind and repair my beloved sweater.



The design that I had in mind was something between a leopard print and a paisley. Initially I wanted it to be more leopard, but the scale of the paisley seemed more fitting. Also, I really wanted the design to only be on the front of the sweater as beads and sequins- especially when sewn to a knit have the tendency to rub. Then there is the issue of of placement. A leopard or paisley print with unfortunate motif placement could look ridiculous very quickly. I did not want to draw any undue attention to my bustline.

In order to clear this hurdle, I made a few shapes to pin on the sweater to determine the best placement and repeat. Once I was pleased with the placement, I began to sew. It took probably 10-12 hours to complete, but I am quite happy with the result and even more pleased knowing that my once loved sweater may now last me another 15 years.

Want to try your hand at embellishing a sweater? The steps below outline how I did it, but they can be adapted to any sequins pattern you create.



You'll Need:

Sequins, I used one ounce of 5mm

Embroidery needles

Thread, Ideally, fil a gant, or gloving thread.

Contrast or Basting Thread (all purpose is fine. Good time to use the odd ones:)

Beeswax or Thread Magic

Pins and scissors

A sweater

HOW TO SEW SEQUINS BY HAND

Step 1. Create the design. You can follow mine or map out your own. Paper and pencil is a great place to begin. If you are in need of inspiration, look in your own wardrobe. Which motif's do you seem to be drawn to? Polka dots? animal prints? stripes? Start there.

Step 2. Determine placement and design repeat. Do you want the design just on a specific part of your sweater? Or would you prefer an all-over design?




HOW TO HAND SEW OVERLAPPING SEQUINS

Sequins come in a variety of shapes and sizes. The ones that I chose are flat and matte rather than the sparkly cupped shaped ones. Sequins size range from 2mm all the way to 30mm. I tend to like the 3-15mm, as I can use an embroidery needle and thread to apply. While sequins can be applied by machine, I do enjoy hand sewing them. Though it does take some time, for speedier work, you can purchase pre-strung beads and sequins.

To hand sew sequins, the thread should be doubled and kept short to prevent twisting and knotting. Be sure to use a light hand as pulling stitches too tight, will create puckers in the fabric. Run your thread through the beeswax or thread magic.

Before adding the first sequin or bead in my pattern, I do like to make one small stitch in the fabric to secure.

To sew a line of overlapping sequin, begin by inserting your needle from underneath the fabric and pushing up.



Place a sequin on the needle and pull toward the fabric to place.



Bring the needle to the side of the sequin to stitch over the edge and coming back up through the center. Pick up a second sequin, place it so that it just overlaps the first and stitch over the edge to secure. When you pull the thread, it should pull the sequin in its place.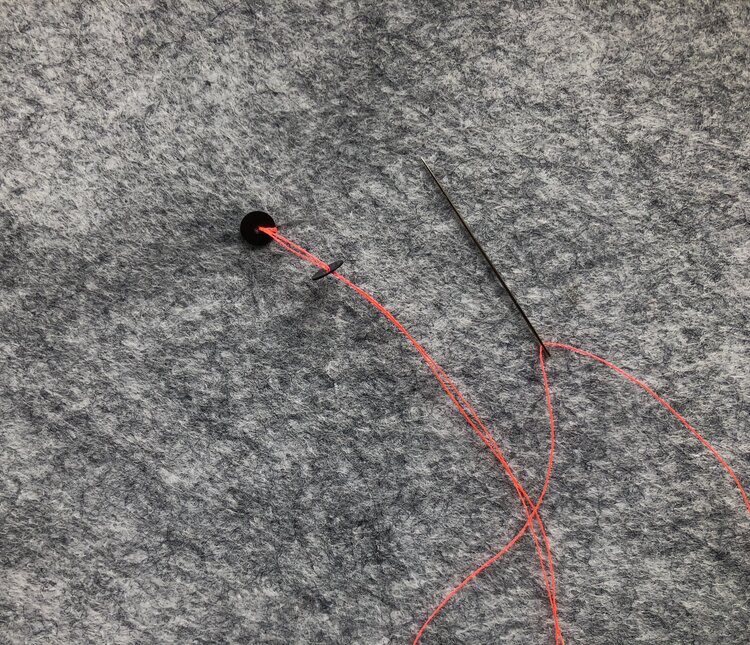 Another view with all of the steps together. Once you get the hang of it, it really does begin to go rather quickly.



HOW TO HAND SEWN SCATTERED SEQUINS



For an all-over effect, this scattered design really packs a punch. I have a skirt that I made years ago that is embellished with an all-over pattern of sequins with a seed bead secured in the center.



---

HOW TO HAND SEW INDIVIDUAL SEQUINS



Begin in the same manner as before, with a small hand stitch to secure the thread to the fabric.


insert your needle from underneath the fabric and gently pull up. Thread the sequin to your needle and down the thread to place.



Insert your needle just over the edge of the sequin, through the back and try to come out just to the opposite side.



Push the needle back into the center of the sequin and pull toward the back.



Here are all of the steps again, in order.



As you complete each sequin, you can knot the thread off at the back of your work or just carry it over to the next sequin.



PUTTING IT ALL TOGETHER



My new/old sweater!

Before applying the sequins to my sweater, I outlined each shape with contrasting thread. Then I began to apply the sequins in an overlapping manner following the outline and filling in as I went along.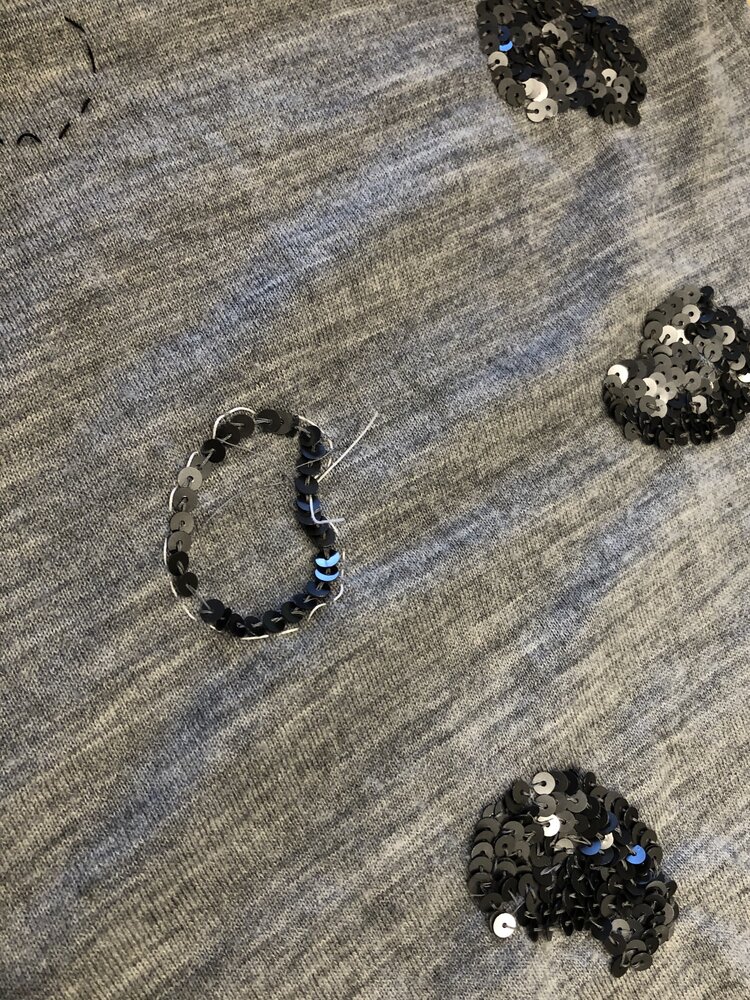 Remove basting thread and move onto second row of outlining.



Third row of following the outline.



A few more sequins to fill in the center and it is done!


---

This repair was to an old sweater and one that I have hand-washed many times. However, if you plan to embellish a garment that you might need to dry clean or that you would like to more easily remove the sequins, you could sew each motif separately onto a pieces of organza or tulle as individual appliqués and then stitch them onto your garment.

I have worn the sweater several times since this repair and I have to say, I do love the sparkly casual feel. While it is a bit dressier than many of my other sweaters, it is now a weekly favorite.

If you enjoyed this tutorial, I do have a Pinterest Board where I frequently pin ideas for refashioning and embroidery. Check them out!

XO, Hilarie