Face Mask Sewing Pattern and Tutorial
MARCH 18, 2020 IN TUTORIAL, PATTERN MAKING, SEWING AND CONSTRUCTION
Across the world, we are all discovering just how unprepared we are for the COVID-19 situation. Face masks are hard to come by and it seems that hospitals will be facing a shortage in the near future. After reading this article I decided that I needed to put my skills to use make a mask pattern.


---
THIS WEBSITE IS NOT INTENDED FOR THE PURPOSE OF PROVIDING MEDICAL ADVICE
All information, content, and material of this website is for informational purposes only and is not intended to serve as a substitute of a qualified physician or healthcare provider.


UPDATES from the CDC

HCP use of homemade masks:

"In settings where facemasks are not available, HCP might use homemade masks (e.g., bandana, scarf) for care of patients with COVID-19 as a last resort. However, homemade masks are not considered PPE, since their capability to protect HCP is unknown. Caution should be exercised when considering this option. Homemade masks should ideally be used in combination with a face shield that covers the entire front (that extends to the chin or below) and sides of the face."

Article from Courier & Press, Evansville, IND "Citing shortages, Deaconess Health System, including Henderson's Methodist Health, has asked the public to sew face masks for staff fighting coronavirus".

---
EDIT 9/2/2021: PDF Face Mask Sewing Pattern Free Download

Download Free PDF Pattern Here
EDIT 4/9/2020: I have written a Mask Making FAQ to address some of the more frequent questions. I hope you find it helpful.

HOW TO SEW A FACE MASK


This mask is made of two layers of cotton and can be fastened with elastic or ribbon and tied around your head. After wearing it around for a bit, it is surprisingly breathable.

Instead of recommending fabric to you, I have linked to a couple of articles above. Please read and decide for yourself which fabric you feel is best to use.

This mask pattern and tutorial has three variations. The first is a standard two layer mask with elastic to fit around your ears.

The second variation is to add ties to the mask so that it loops and ties around the head.

The final variation is to adapt the mask to allow it to hold a shield or filter.

SUPPLIES


2 - 10" pieces of 1/4" -1/2" flat elastic or 2 yards of 1/2" ribbon
7.5" of metal wire , I used 16 gauge wire, but would image that a straightened out paper clip would likely work in a pinch.
8" of Bias tape OR 2 rectangles of fabric 3 x 4.5"
Filter for pocket option
SIZE
Finished Dimensions: Approximately 3.5" x 7"
PREPARE
Cut 2 pieces of fabric in a 7.5" square. Pin and sew across the top and the bottom using a 1/2" seam allowance.
How to Sew a double layered face mask with elastic
Trim the seam allowance, turn to the right side and press.
CASING
To form a casing, stitch through both layers along the top edge, again with a 1/2" seam allowance.
Fold the leading edge of the wire in just a bit so the it doesn't poke through the fabric. Insert into the casing. Bend the opposite side.



PLEATING THE MASK

To form the pleats, mark your mask at the 1 3/4", 3 1/2" and 5 1/4" points from the top. This will be your guide to fold the pleats. If you aren't the exacting type of person, just wing it. The mask needs to be pleated so that it is 3.5" tall.

The image below is not sewn, however, it is cut to the same dimensions as if it were sewn with a 1/2" seam allowance at top and bottom.



Each pleat is 1/2" deep. Fold pleats up, toward the top of the mask and pin.



Stitch along pleats using a 1/2" seam allowance. Repeat for opposite side.



APPLYING BIAS

Align folded edge of bias tape along the line of stitching. Trim tape to 1" longer than the side of your mask. Fold and press edge of top and bottom of bias 1/2" toward the inside. Repeat for opposite side.



Pin and stitch right over the previous row of stitching. (If you do not want to make bias tape, keep reading. I have another option for you.)



Fold bias inward along the fold line. Pin in place. Topstitch the edge of the bias.



FINISHING

Take one piece of elastic and using a safety pin, draw it through the mask side casing. Tie in a slip knot. Repeat for the opposite side.



Trim knot ends and pull through the casing to conceal. Repeat for the opposite side.



Your mask is complete! Try it on and bend the wire for a comfortable fit.


---
HOW TO SEW A FACE MASK WITH TIES
This pattern has a lot of flexibility as far as supplies and technique go.

The second variation involves just making the side edge casing a little wider to allow for ribbon to be drawn through.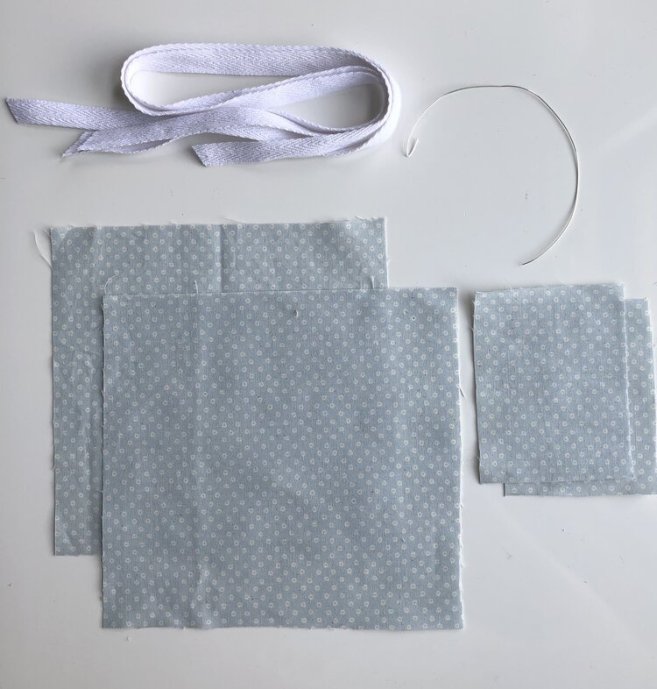 SUPPLIES


SIZE
Finished Dimensions: Approximately 3.5" x 7"
Follow directions up until the bias tape application. Instead of bias tape, cut 2 rectangles of fabric 3" x 4.5". Press the long sides in 1/2". Press shorter sides in 1/2".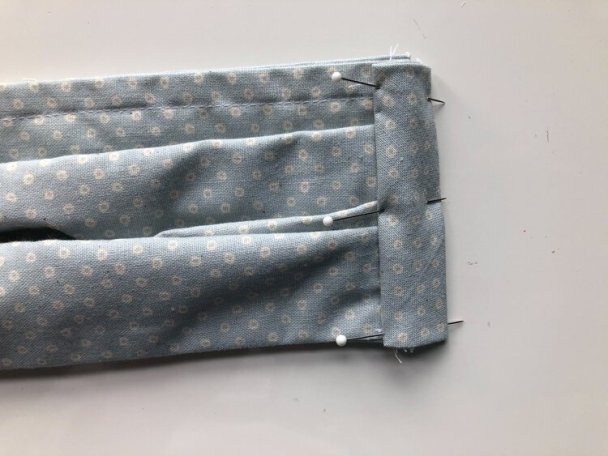 Align the folded edge of the fabric along the line of stitching in the same manner as the bias tape application. Folding and press the edges of the top and bottom 1/2" toward the inside to conceal raw edges. Repeat for opposite side.
See section Applying Bias for step by step pictures. The fabric squares are applied exactly like the bias tape- just wider and a bit easier to handle for beginners.
Topstitch along the edge of the casing.
This casing is nice and wide and should easily accommodate a 1/2" wide ribbon or twill tape.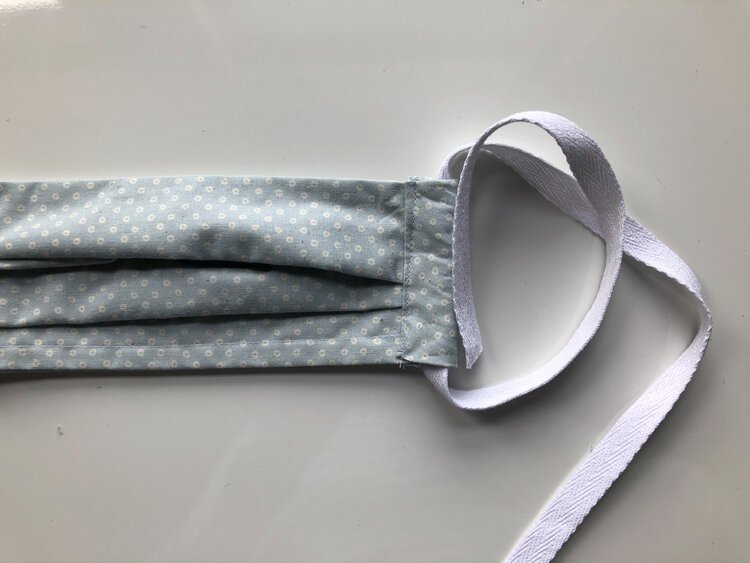 Pin the edge of a 36" long piece of ribbon or twill tape to a safety pin and pull through casing. Repeat for opposite side.
Try on and tie for fit. Feel free to use a longer or shorter length of ribbon.
UPDATE- HOW TO MAKE A FACE MASK WITH A POCKET FOR A FILTER OR SHIELD
For those of you who would like to make a mask with a pocket for a filter, here are the steps to create that variation.
Cut one square 7 1/2"
Cut 2 rectangles 7 1/2 x 4 1/4
Take the two smaller rectangles and place them with their RIGHT sides facing together. Pin inward 1.5" in from each outside edge.



Stitch with a 1/2" seam allowance, leaving the center open.



Press the seams flat.



Top stitch along the seam line. This will help the fabric to lay flat.

Once you have pieced the fabric to make the pocket opening, if it is larger than 7 1/2", trim to size.



Place the stitched piece with the split opening and the 7 1/2" square with their RIGHT sides facing together and continue as explained in step one of first tutorial.

The following picture is what it will look like after the casing is stitched.



Once complete, the opening should allow for a filter to be place inside. The split opening should fold nicely between the pleats.


If you look closely, this mask has a filter inside. Once the sides are pulled, the center pleat pulls tight so that the wearer does not feel the filter.

I hope that this tutorial is helpful. Please feel free to email with any questions.

Wash your hands, hug your kids and stay home and sew.

XOXO, Hilarie