Easy DIY Lace Collar Necklace
LITTLE STITCH STUDIO
OCTOBER 21, 2020 IN FABRICS AND TEXTILES, PATTERN MAKING, TUTORIAL
I voted today!

This is the eighth presidential election that I have had the privilege to exercise my right to vote- but it feels like it might be one of the most significant. After getting my kids fed, dressed and started on their virtual school day, I went to get myself ready.

To mark the occasion, I wanted to dress up a bit- to show respect for the women who have come before me and to all of the young girls coming up. Our voice counts- we matter. Looking down at my T-shirt, I saw the illustration of Ruth Bader Ginsburg in her dissent collar. Her "notorious" dissent collar. I need a lace collar! This occasion calls for a lace collar.

I ran upstairs to survey my lace options and decided to use some black cotton eyelet. Since I only had a small window of time to both vote and sew- this had to be quick.

Part collar, part necklace. It turned out perfect!


---
Scroll down to create your own lace collar necklace.



Sewing with Eyelet Fabric and Lace

Have you sewn with cotton eyelet before?

Eyelet is a fabric with an embroidered, open-work pattern. Though generally made of woven cotton, modern interpretations can be found in wool, leather, jersey, silk and even neoprene.

Like other types of lace, whether delicate or sturdy, special handling is required to ensure the beauty of the finished garment.

Successfully sewing with lace depends in large part on the placement of the motifs of the fabric in relationship to the garment design. This is more easily accomplished than you might think! It just takes a little more time and thought.

Thread:

The ideal weight of the thread is fully dependent on the content of the fiber and type of weave rather than the "lace" design. If you are sewing with cotton or linen eyelet, use cotton or polyester thread, size 50.

Needle:

For lightweight cotton, linen or wool eyelet: Universal-H Point, jeans (HJ) 70/10

More about needle sizes and application.

Seam Finish:

There are as many types of seam finishes as there are functions, fabrics and preferences. Like other laces, eyelet has little holes incorporated throughout the design. Construction methods are determined by the sheerness or opacity of the lace. This should be kept in mind as you consider seam finishes and lining options, as they will be somewhat visible on the right side of the finished garment. Seam finishes such as a bound seam (using a strip of silk organza), French seam, whipped French seam and serged edges look best- and don't add bulk.

Pressing:

You should press eyelet fabrics face down on a soft pad- a terry cloth towel is good, to avoid flattening the embroidery. Generally, the thread used to embroider most eyelet fabrics is synthetic, and could flatten, burn or pick up some unwanted shine when ironed. Use a pressing cloth and test a small swatch to see how it reacts.

Hem:

When finishing a garment made of lace, there are several important construction details that you will need to keep in mind. The ideal type of hem will allow the fabric to drape and hang in a flattering manner. To achieve this, you will need to consider the overall weight of the fabric as well as the garment design to select an appropriate hem technique. Some garments and fabrics will require a much deeper hem than others.

Generally, the hem is formed by folding under and pressing the raw edge twice before stitching the inside the fold. Depending on the design of your eyelet, the fabric's selvage might have a beautiful lace border which you can cut to use as the hem of your garment.

Opaque, backed, or underlined laces may have hem edges finished in any of the traditional ways; rolled hems, turned-up bound hems and facings. I do suggest looking at high end garments for ideas at finishing techniques as well as practicing a few for yourself and see what you think works best.

Fabric Preparation:

Lace can be used for an entire garment, or for only a bodice or skirt or even just as trim. Let the weight, density, width and cost of the fabric assist you in determining the look you create.

Lace motifs should be advantageously placed whenever possible, to serve as decorative edges or trim your garment. If your lace is one which has a scalloped edge, pattern pieces can be positioned so that this forms a decorative finish alone a straight neck edge or hemline.

Lace should be laid out flat, in a single layer on a table or other flat surface. Cutting should be taken with care.




Finished Size: 42" x 4"

One size fits all

Supplies:

1 yard of Black Cotton Eyelet Lace (similar to this)

1 1/3 Yards of 7/8" Grosgrain Ribbon



Prepare:

Layout the entire piece of fabric, in a single layer on a table or other flat surface. Scallops along the edge of a hem need planning. Check the scalloped border to determine the ideal place to begin and end cutting your collar.

For this project, there is a turned casing at the neckline.. The bottom of the collar was cut to feature the beautiful selvedge border.

If you look closely at mine, I began and ended my cut in the center of a lace motif. This way, when I go to turn the opening for the casing, the lace will fold back in and mirror the shape of the motif next to it. This will help to make a pretty opening.

Cut:

Measure and cut lace 44" X 5.5".




Press:

To prepare the center front casing, layout the cut lace and fold one short end of the lace in the center of a scallop inward matching the scallop shape along the edge. Press. Repeat for the opposite side.




Sew:

Finish the raw edge of the lace. (I used a serger for mine.)




Fold cut edge of fabric 2" toward the inside of the collar.

Pin through both layers of lace across the collar.

Since my ribbon was 7/8" of an inch wide, I made my seam opening, 1 1/8" wide to allow for the ribbon to draw through plus a bit of ease for gathering.

Stitch. Clip threads.




Take the ribbon and thread it through a safety pin or bodkin and draw through the casing. Once the ribbon is pulled through, cinch the collar to encourage it to ruffle a bit.

The ribbon should be just a few inches longer than the entire length of the collar before cinching.

Try it on and adjust the gathers and ruffle so that they form an attractive collar.

Clip each loose ribbon end at an angle to prevent fraying.




The collar can be tied at the center front for a rounded, ruffled collar.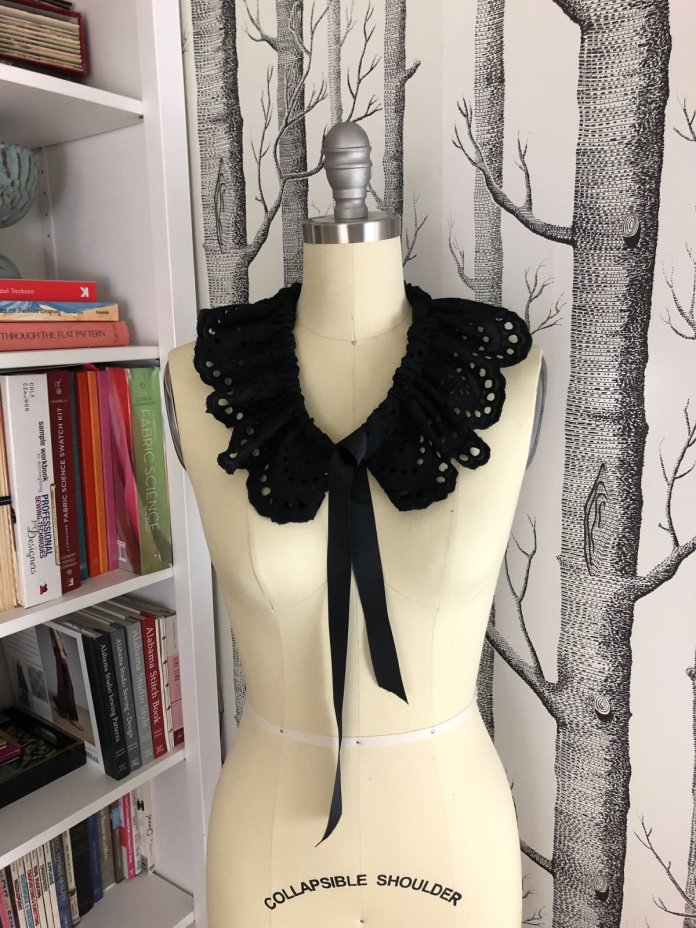 Try playing with the length and width of the collar. This would be really flattering on a v-neck sweater or cardigan. It reminds me of the dainty Eileen West and Laura Ashley collars from the 80's- but so much bolder and way more stylish!




The collar would be equally as lovely tied in the back. I could see wearing this out one evening with a halter cut sweater top, jeans and heels- and a great bag of course, too.




XO, Hilarie

Remember to Vote! For more information on voting in the US Election, go to vote.org